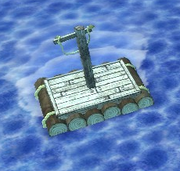 Rafts are transportation objects found in the maps Rainbow and Snowman. Their purpose is to quickly transport players through the map by water. A map with rafts will have two docks and rafts. Upon arriving at a docks, rafts will wait several seconds before taking off again. Rafts will move on their own meaning that players can still act normally whilst on a raft.
Notes
Despite being out of melee reach, players taking rafts are still vulnerable to ranged attacks. Skills that knock away or stagger are more than likely to take players off of moving rafts. Conversely, ranged attacks can be used on rafts with the added benefit of attacking while on the move which can be useful, especially when using skills that require a player to be stationary.
Trivia
The rafts do not have sails, which suggests that it travels on a current.
Gallery
Ad blocker interference detected!
Wikia is a free-to-use site that makes money from advertising. We have a modified experience for viewers using ad blockers

Wikia is not accessible if you've made further modifications. Remove the custom ad blocker rule(s) and the page will load as expected.