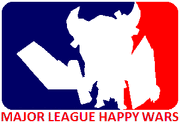 Major League Happy Wars
is a competitive
Happy Wars
league created to showcase the best teams in the world. Sanctioned by Happy Wars Wikia, Major League Happy Wars was founded in 2013. The league is currently under development. Matches will follow a ladder system, taking place through a series of challenges in which the challenging team fights to take the rank of a higher ranked defending team. Matches will take place soon, and teams are encouraged to join. We hope to see you on the battlefield!
Rules
Join by adding your team to the bottom of the rankings and providing representatives on the table.
Matches will be initiated by challenges.
Any team may challenge any other team that is within three places of them in the rankings.
A challenge is made when a representative of a team requests a match from one of another team.
The defending representative has one week from the time of the challenge to respond to the challenge.

The defending representative must respond by providing a proposed time window of at least two hours in which to play the challenge match.
The proposed time window for the match must take place within two weeks of the time of the challenge.
A team automatically forfeits a match if they fail to meet any of the deadlines associated with the match.

Teams may consist of any number of players, but matches procede with no more than eight players per side, unless otherwise agreed upon by both teams involved in the match.
Games that are corrupted by lag will not count toward league rankings.
Any player can be banned at the discretion of league officials for the following reasons:

Falsifying league rankings
Consistent substantiated reports of intentional lag
Any circumstance that can be considered cheating
Any circumstance that can be considered unsportsmanlike conduct

League officials reserve the right to modify or change the rules at any time and for any reason.
League Rankings
Team EL CARTEL MX
Team Dashboard
Team Representatives
| Team | Representatives by Gamertag |
| --- | --- |
| Team Dashboard | Smokey McSkater, Ruskie Ruckus, The Mike 1979 |
| Team EL CARTEL MX | GABOKI, Midnigth Wolf, Juan Barrueta, NumineX57 |
Ad blocker interference detected!
Wikia is a free-to-use site that makes money from advertising. We have a modified experience for viewers using ad blockers

Wikia is not accessible if you've made further modifications. Remove the custom ad blocker rule(s) and the page will load as expected.