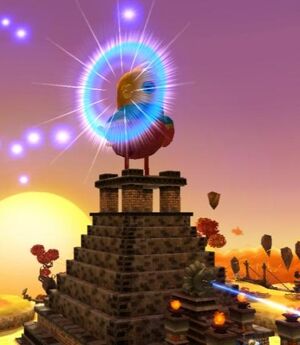 The Bird Cannon (also called the "Chicken Cannon") is a very powerful but slow firing Mounted Weapon that can be found on the Sunset and Bird God Maps. It takes time to power up one shot at a time up, can power up to five shots, and fires all shots at once. You can lock on to 1-5 enemies at a time.
It is unbreakable, and can only be used by the team that is in control of the tower near it.
Trivia
In the Bird God map, the Bird Cannon has a line of sight of the entire map. For balancing purposes, it is unable aim and lock on to players on castle walls.
Ad blocker interference detected!
Wikia is a free-to-use site that makes money from advertising. We have a modified experience for viewers using ad blockers

Wikia is not accessible if you've made further modifications. Remove the custom ad blocker rule(s) and the page will load as expected.