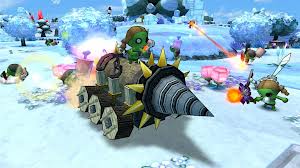 (Japanese: 破壊丸太 Destruction Log) The battering ram is an extremely powerful weapon that is used only to break down castle gates. Only a Cleric can Summon Materials for a battering ram, but a ram can be built by anyone. Building and using a battering ram can prove to be a challenge though, as enemy players will try to delay its construction for as long as possible, dispel the materials for the ram, and break the battering ram by damaging it once it is built. To board a battering ram, press [LT] when close enough to it. The battering ram can take down a castle gate in as little as two hits with enough players and no more than 5 hits from full health with a single player on the ram. Alternatively, players can simply attack the Gate or build Ladders. If multiple players try to get on the ram at once, it will do double, triple or even quadruple the damage it does if only one person gets on. It also awards the other players points, even if they didn't get the hit on the gate, enemies in co-op mode build lots of these as well as ladders when near your castle, so beware!
Construction speed
| Parameters | Time (seconds, non-Priests) | Time (seconds, Priests) |
| --- | --- | --- |
| No buffs (Base value | | |
| Construction Speedup 1 (85% of base value) | | |
| Construction Speedup 2 (70% of base value) | | |
| Construction Speedup 3 | | |
| Construction Speedup 1+3 | | |
| Construction Speedup 2+3 | | |
| Crash Work for 10 seconds+no speedups | N/A | |
Ad blocker interference detected!
Wikia is a free-to-use site that makes money from advertising. We have a modified experience for viewers using ad blockers

Wikia is not accessible if you've made further modifications. Remove the custom ad blocker rule(s) and the page will load as expected.